Dr. Umar Saif has been chosen to serve as the interim Minister for Information Technology and Telecommunication. Dr. Saif's selection for this role is distinguished by his exceptional proficiency, as highlighted by his previous position as Chairman of the Punjab Information Technology Board.
His illustrious career is emphasized by a range of international accolades in the technology sphere, indicating his considerable sway and pioneering contributions. Dr. Umar Saif's accomplishments have merited him multiple esteemed honors, underscoring his substantial influence and inventive spirit in the domain.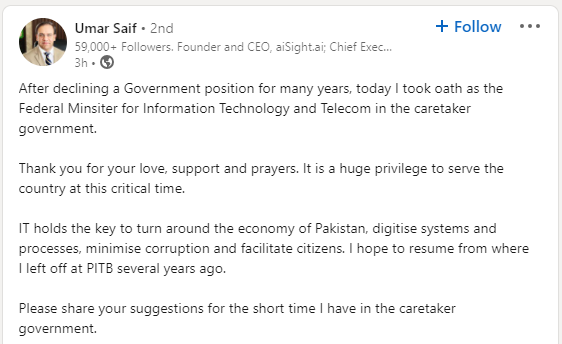 His appointment as the temporary caretaker minister for IT and telecom mirrors his extensive know-how and expertise in propelling technological advancement and spearheading digital transformation endeavors.
Dr. Umar Saif has asked his LinkedIn followers for suggestion to improve during his short time in this caretaker government.