In a heartfelt and touching expression of love and emotion, cricket legend Shahid Afridi has penned a poignant message for his daughter, Ansha Afridi, on the occasion of her wedding to Pakistan's emerging pace sensation, Shaheen Shah Afridi. The wedding festivities unfolded in Karachi, enveloping family and friends in an atmosphere of joy and celebration.
The journey of Ansha and Shaheen towards matrimony commenced two years ago when they exchanged engagement vows, and their love story reached its pinnacle during an intimate Nikah ceremony held in February earlier this year. As they embark on this new chapter of their lives, Shahid Afridi, affectionately known as Lala, took to social media to convey his heartfelt sentiments.
"Aya tha ghar main noor abhi kal ki baat hai
Rukhsat bhi ho raha hai wo ankhon kay saamney
Dooba hua bhi hai terey baba ka dil magar
Umeed subh-e-nau isey ayi hai thamney."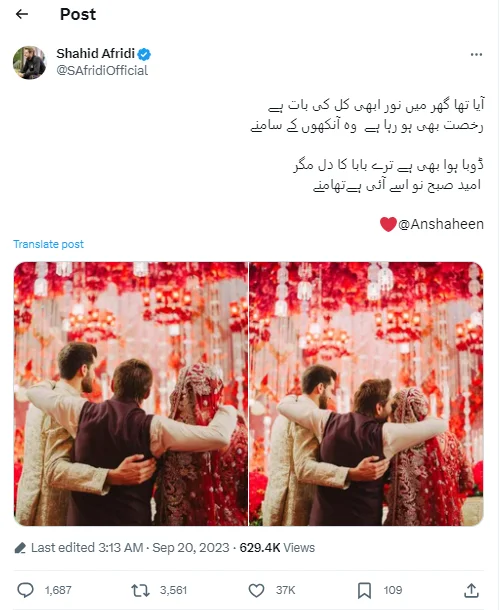 These verses eloquently encapsulate the bittersweet moment of a father bidding adieu to his beloved daughter as she sets forth on a new journey with her life partner. Alongside these poignant words, Afridi shared two photographs, which beautifully capture the newlyweds and their special bond.
In one of these snapshots, Afridi leans affectionately towards Ansha, his love and pride palpable as he witnesses his daughter embark on this enchanting journey of matrimony. Ansha herself exudes beauty in her intricately-designed red attire, adorned with exquisite gold zardozi and sequin work.
The wedding, held at a private venue in Karachi, garnered significant attention on social media platforms. Esteemed guests, including fellow cricketer and Pakistan's captain, Babar Azam, joined in the festive celebration. Shaheen, the 23-year-old fast bowler, arrived at the venue in the company of his family, symbolizing the commencement of their shared life journey.
The rukhsati, a moment of great significance in Pakistani weddings, was graced by the presence of renowned figures from the cricket world, including former captain Misbah-ul-Haq, Saeed Anwar, Tanveer Ahmed, and Sohail Khan. Their attendance added an extra layer of charm to the occasion.
Though Ansha and Shaheen officially became husband and wife seven months ago, the rukhsati was deliberately postponed until September, generating anticipation and excitement among well-wishers. To continue the festivities, the couple has planned their valima ceremony in Islamabad on September 21, ensuring that their journey of love proceeds with warmth and continued celebration.
As Shahid Afridi and his family rejoice in this momentous occasion, they do so with hearts filled with love and blessings for Ansha and Shaheen as they embark on the beautiful adventure of marriage.