Former Indian tennis player Sania Mirza's latest Instagram story is going viral as some fans are saying it has an indirect message for "someone".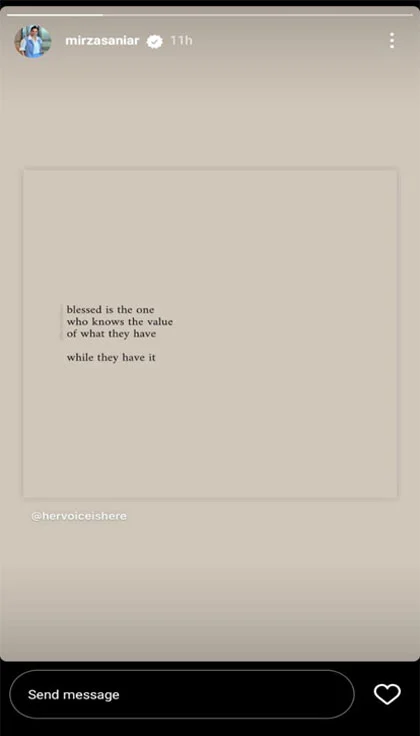 "A person is blessed when he knows the value of something in life while HAVING IT," the post reads.
While Sania Mirza hasn't explicitly mentioned the post's recipient, her fans and followers were quick to assume that the message was directed towards her estranged husband, former Pakistan cricketer Shoaib Malik.
Shoaib Malik and Sania Mirza got married in April 2010 and later became parents to their first child, a baby boy named Izhaan, born on October 30, 2018. However, various news outlets had previously reported that their marriage was in trouble. As of now, the couple has not issued an official statement regarding the status of their relationship.
During a recent interview, a journalist asked Sania Mirza how she manages to balance her career and motherhood. Her response was swift; she mentioned that she handles it the same way as her husband does. She emphasized that she would respond to this question only after the journalist posed the same query to her husband.
Sania Mirza remarked, "I manage it the way Shoaib Malik manages it. If you ask Shoaib Malik the same question, I will give you the same answer."