AirHelp evaluated 138 airports worldwide from their 2022 AirHelp Score, taking into account factors such as flight punctuality, the quality of shops and amenities, and customer ratings. Here are the airports that ranked among the lowest:
5. Bristol Airport (BRS)
Coming in as the fifth worst airport globally is the United Kingdom's Bristol Airport. Serving as a significant hub for many of Europe's low-cost carriers, it experiences a substantial influx of travelers, having handled 8.9 million passengers in 2019. Unfortunately, it scored poorly in terms of on-time performance, receiving a rating of just 5.98 out of 10, which is far from ideal for passengers.
Customer reviews of the airport have also pointed out other issues. High passenger traffic, coupled with a shortage of staff, often results in lengthy security lines that can take over 40 minutes to clear. Additionally, a lack of seating areas leads to uncomfortable waits, especially during peak travel seasons.
4. Antalya Airport (AYT)
Antalya Airport in Turkey is one of the fastest-growing airports globally, with passenger numbers soaring by 125% in 2021, serving over 18 million travelers. The surge in traffic is primarily driven by tourists heading to Turkey's picturesque beaches, especially during the summer months. However, for holidaymakers, it also boasts one of the worst on-time performance scores, a mere 5.67 out of 10.
In addition to these findings, customer reviews commonly mention long wait times, bottlenecks at security checkpoints, difficulties securing taxis, and challenges in locating luggage drop-off and retrieval points. The airport will require significant upgrades to accommodate its ever-increasing passenger volume.
3. London Luton Airport (LTN)
Occupying the third spot among the world's worst airports is another UK airport, London Luton Airport. This airport is also experiencing rapid growth and aims to increase its handling capacity to 38 million passengers by 2050, an ambitious goal indeed.
However, improvements can't come soon enough. Our ranking places it near the bottom due to poor on-time performance, but passenger reviews reveal additional concerns. Many travelers report the airport's crowded and chaotic nature, experiencing difficulties at security checkpoints, during luggage check-ins, and due to a severe shortage of staff. During busy travel seasons, passengers also endure extensive queues at restaurants and restrooms, with limited seating and relaxation areas.
2. Lombok International Airport (LOP)
Lombok International Airport in Indonesia claims the title of the world's most delayed airport according to the AirHelp Score, with an on-time performance rating of just 4.97 out of 10. While it's a modern and well-maintained facility, passenger reviews consistently highlight constant delays, a confusing layout, and discomfort caused by heat and humidity during waits for flights.
1. Toronto Pearson International Airport (YYZ)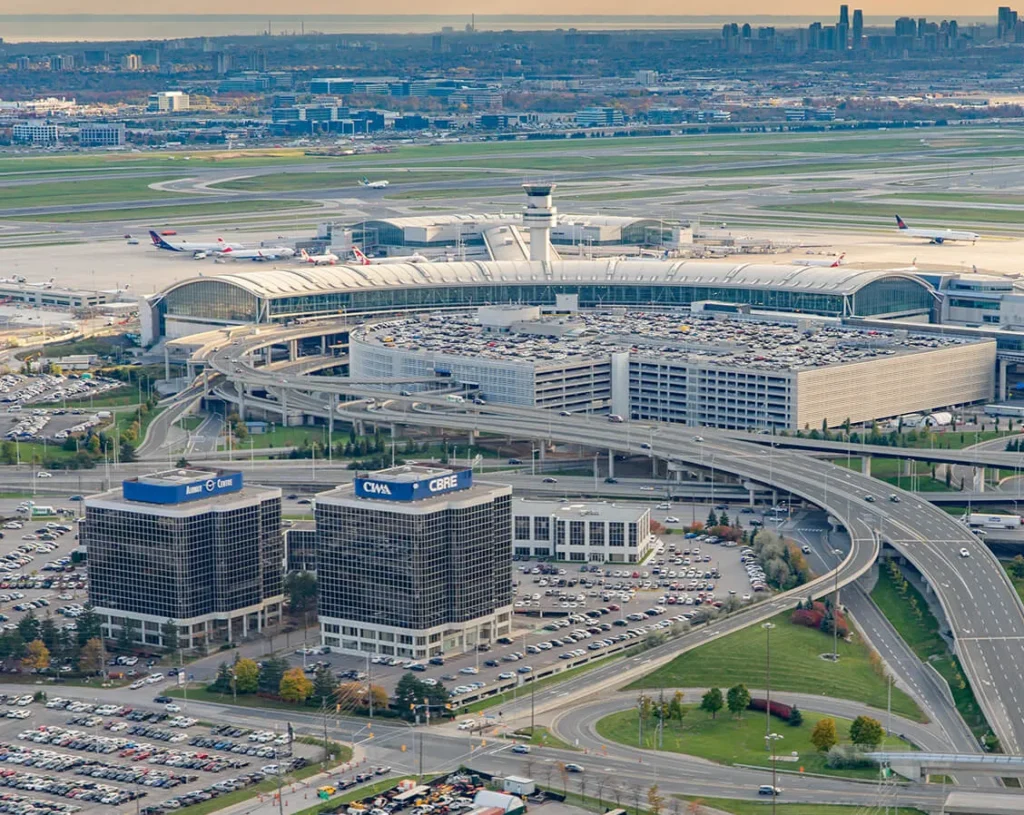 Taking the top spot as the worst airport in the world according to our 2022 AirHelp Score is Toronto Pearson International Airport in Canada. Although it isn't the most delayed airport, with 53.3% of flights departing and arriving on time, it receives one of the lowest customer ratings in the score, just 6.88 out of 10.
The low rating is partly attributed to its high passenger volume, with Toronto Pearson being a major hub for both passengers and cargo, having served up to 50.5 million travelers in 2019.
In passenger reviews, chaos and confusion are commonly reported, particularly in cases of flight cancellations or delays. Overcrowding is also an issue, with long queues at security checkpoints, restaurants, and restrooms. Some travelers express frustration with gate placements and cluttered luggage claim areas, making it challenging to locate their bags.
One can only hope that Toronto Pearson Airport will make strides in improving its performance in the coming years, aiming to move away from its reputation as the world's worst airport