A powerful explosion shook a remote fuel station in the Caucasus region of Dagestan, Russia, causing a massive fireball that tragically claimed the lives of at least 35 individuals. This heartrending incident prompted President Vladimir Putin to express his condolences on Tuesday.
The stark visuals shared by the emergencies ministry depicted a scene of utter devastation, with charred vehicles and an intense blaze dominating the landscape. Rescue teams, equipped with helmets, bravely battled to contain the flames and remove debris in their heroic efforts to save lives.
Official reports disclosed that the explosion had resulted in the loss of 35 lives and left 80 others injured. Responding to this tragedy, the Kremlin issued a statement on behalf of President Putin, conveying his deep sympathies to the families and friends of the victims and wishing a swift recovery for the survivors.
The explosion unfolded in Makhachkala, a city on the shores of the Caspian Sea and the capital of Dagestan, following an initial fire outbreak at a fuel station. The regional arm of the Investigative Committee, responsible for investigating significant incidents, communicated through social media that the fire ignited during car maintenance, leading to a subsequent explosion that caused both injuries and fatalities. The incident also inflicted damage on nearby structures and vehicles.
An inquiry into the events leading up to the fire has been launched, with a criminal case initiated to shed light on the sequence of occurrences.
Government-run news agencies reported the successful extinguishing of the fire, as confirmed by the ministry. The explosion occurred shortly before 10:00 pm local time and drew a response from Sergei Melikov, the head of the Dagestan administration, who shared the incident on social media, explaining that the fire originated in a vehicle parking area before spreading to the fuel station.
A witness, quoted by the Russian daily newspaper Izvestia, recounted the terrifying experience, describing how the fire began in the parking area and swiftly enveloped the surroundings in chaos. The witness, unnamed in the report, noted that the explosion created a disorienting scene, obstructing visibility and causing great distress.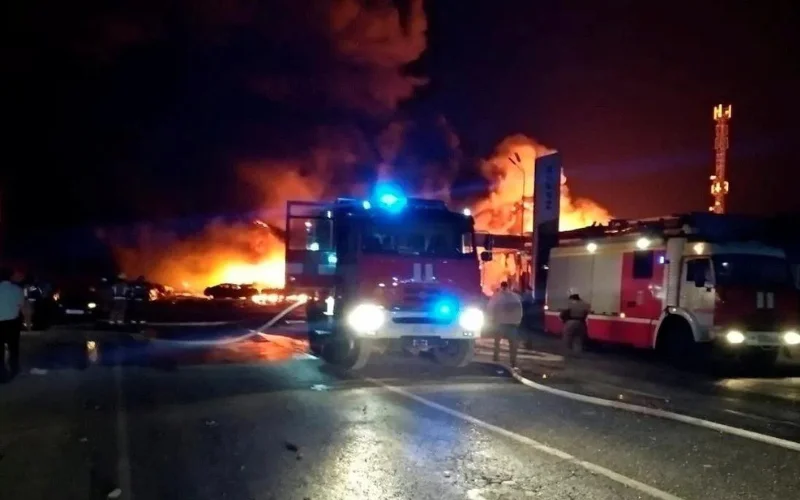 Russia's emergency services exhibited the courageous efforts of firefighters as they battled towering flames and explored the wreckage using flashlights. The fire had consumed an area spanning 600 square meters (approximately 6,450 square feet), prompting the deployment of 260 firefighters to combat the blaze.
In response to the gravity of the situation, a government Il-76 aircraft was dispatched to Makhachkala to airlift critically injured individuals to Moscow for urgent medical treatment. As of now, the evacuation operation has been successfully completed.
To honor the lives lost in this tragic incident, the Dagestan government designated August 15 as a day of mourning. The nation's flags will fly at half-mast, and cultural institutions and television programs are expected to suspend entertainment events and broadcasts as a gesture of respect.