In a notable development, Dr. Tawfiq bin Fawzan Al-Rabiah, the Saudi Minister for Hajj and Umrah, made a significant announcement on Monday. He revealed that Pakistani pilgrims will now be granted an extended Umrah visa validity of 90 days. This news was unveiled during a joint press conference held in Islamabad, where Dr. Al-Rabiah was accompanied by his Pakistani counterpart.
This positive change translates into an expanded timeframe of 90 days for Pakistani pilgrims embarking on the sacred Umrah journey. Dr. Al-Rabiah highlighted that this extension not only facilitates the performance of Umrah but also presents an opportunity for pilgrims to explore the historical landmarks of the Kingdom. Moreover, around 100 additional sites across Makkah and Madina will be accessible to enrich the spiritual encounter of pilgrims.
Simultaneously, Pakistan and Saudi Arabia bolstered their collaboration within the aviation sector by formalizing an Air Services Agreement. The agreement aims to enhance travel connectivity between the two nations, a development that is particularly promising for Pakistani pilgrims. The signing took place in the presence of Pakistan's Caretaker Minister for Religious Affairs and Interfaith Harmony, Aneeq Ahmed.
Minister Aneeq Ahmed expressed optimism about the agreement's potential advantages, especially for pilgrims, and underscored the significance of the ongoing Route to Makkah initiative. He recommended extending the project's scope to encompass all international airports in Pakistan, thus further simplifying and broadening the pilgrimage process.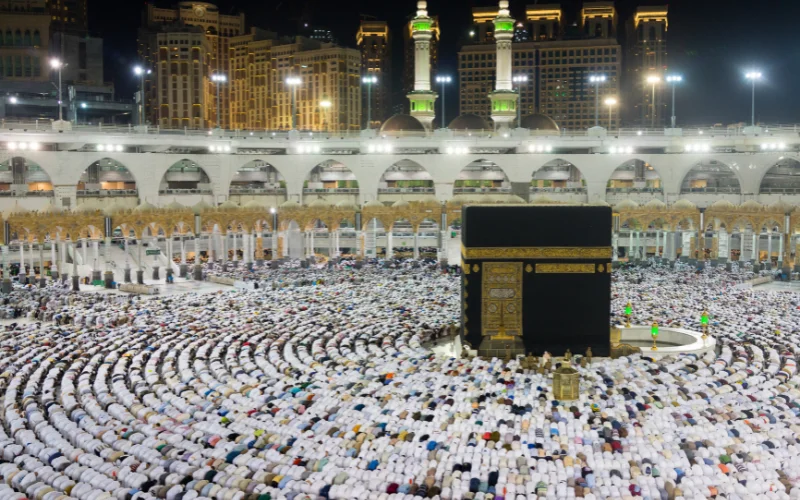 During the press conference, Minister Ahmed also advocated for improved amenities for Pakistani pilgrims at pivotal pilgrimage sites, including Mina and Arafat. He additionally called for the allocation of alternative land to construct the Pakistan House in Saudi Arabia, a facility intended to serve as a base for Pakistani pilgrims during their stay.
Furthermore, Minister Ahmed appealed for Saudi authorities to exempt Pakistani citizens aged 65 and above from the biometric verification requirement. This exemption, he emphasized, would be particularly convenient and considerate for elderly pilgrims.
Assuring ongoing efforts to reduce Hajj-related expenses, Dr. Al-Rabiah, the Saudi Minister, underscored the commitment to strengthening the bilateral relationship between the two nations. He acknowledged the productive discussions during his visit and commended the strong bond existing between the people of Pakistan and the Custodian of the Two Holy Mosques.
With the extended duration of the Umrah visa and the continual enhancements in the pilgrimage experience, Pakistani pilgrims can anticipate an enriched and more accessible spiritual journey in the Kingdom of Saudi Arabia.