Mahira Khan, a renowned personality, has graciously opened up about her pre-wedding Mayun ceremony, offering a glimpse into this special occasion with her devoted followers. In addition to sharing her heartfelt sentiments, she took the opportunity to express her deep gratitude and affection for the significant women in her life.
On her Instagram post, Khan provided a sneak peek into her Mayun celebration, which was thoughtfully orchestrated by her lifelong friends. She penned a sincere message, pouring her love and appreciation out for her mother and her cherished friends, acknowledging their unwavering support. Notably, her mother had a heartfelt wish to commence the wedding festivities with a prayer, a gesture that underscored her strength and resilience, even while facing the challenges of being in a wheelchair.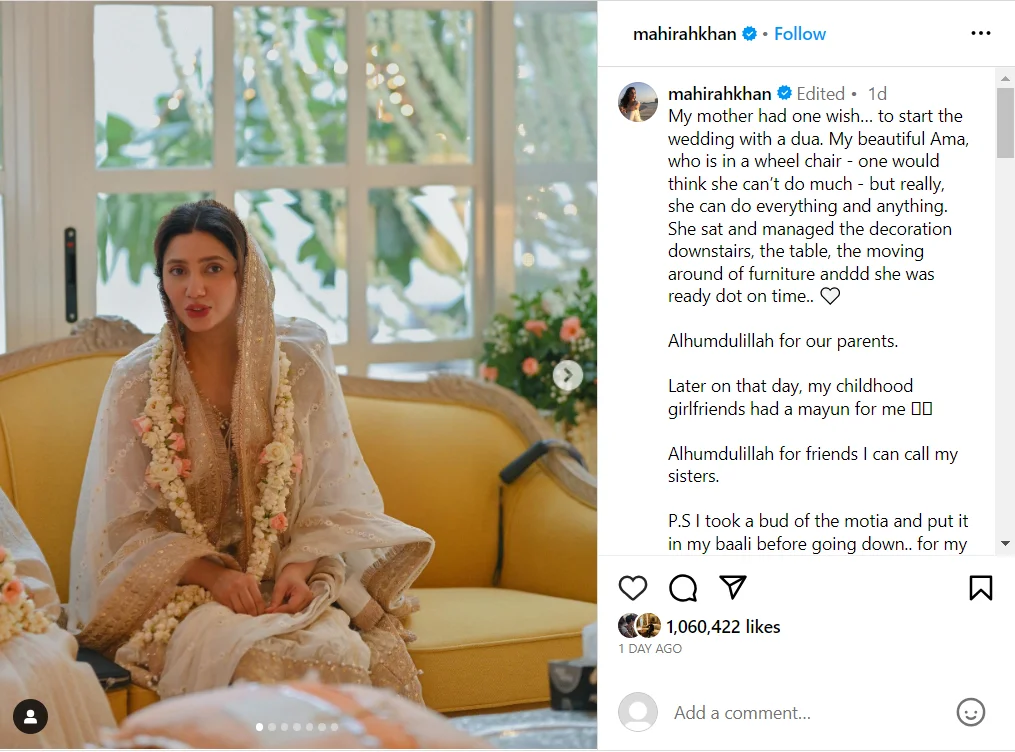 For her Mayun ceremony, Khan gracefully adorned herself in traditional attire, donning an exquisite off-white Hyderabadi kurta paired with a stunning golden wide pajama. She shared a touching anecdote, revealing how she plucked a fragrant bud of motia (jasmine) flower from her garland and delicately placed it in her earring, paying homage to her late grandmothers.
Additionally, Khan disclosed that she had previously shared pictures from her wedding day on Instagram, endearingly referring to her husband as 'Mira Shahzada Salim.' In these captivating images, she radiated elegance in a pristine white wedding gown, flanked by her brother and son, who shared the stage with her during the ceremony.
The photographs from Mahira Khan's second marriage have garnered an outpouring of love and blessings from the online community, deeply moved by the heartfelt moments she chose to share. The wedding itself garnered substantial attention and adoration, even from notable celebrity friends in India. Superstar Hrithik Roshan praised her appearance and extended heartfelt congratulations to the newlyweds. Other luminaries such as Mouni Roy, Malaika Arora, Sanjay Kapoor, Dia Mirza, Sonam Kapoor, Sania Mirza, Sophie Choudhry, Harshdeep Kaur, and many more joined in sending their warmest wishes for her second journey into matrimony.