Cristiano Ronaldo, the world-famous football icon, has been making a significant impact in Saudi Arabia since joining Al-Nassr in December of the previous year. In a recent video shared on Al-Nassr's official social media platforms, Ronaldo and his fellow teammates displayed their genuine appreciation for Saudi Arabian culture.
Accompanied by the caption "All together. For one flag. We Dream, and Achieve," the video spotlights three young children exploring the club's stadium while encountering various players engaging in traditional Saudi activities. Towards the video's conclusion, Cristiano Ronaldo himself makes an appearance, gracefully adorned in traditional Saudi attire.
Ronaldo, celebrated for his extraordinary prowess on the football field, has seamlessly integrated into life in Saudi Arabia, seamlessly blending in with the Al-Nassr team. Remarkably, he has already netted seven goals in his initial five matches of the Saudi Pro League season and clinched the Golden Boot as his team emerged victorious in the Arab Club Champions Cup.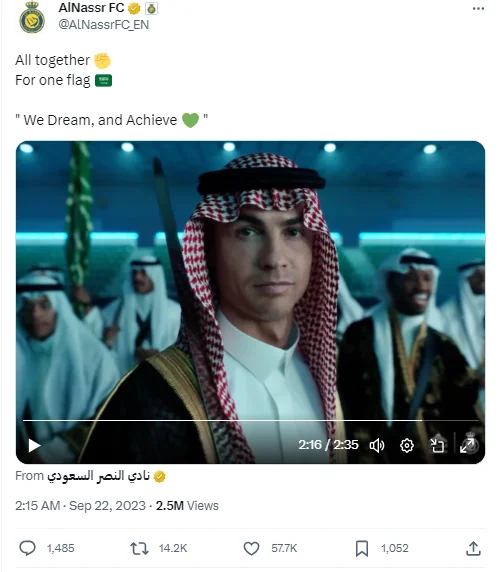 The release of this heartwarming video coincided with the impending Saudi National Day celebration, suggesting a connection between the two events. Al-Nassr's sharing of this video not only underscores the team's dedication to football but also underscores their profound respect and admiration for the rich tapestry of Saudi Arabian culture.
It's noteworthy that Saudi Arabia's football scene has been attracting international luminaries, including N'Golo Kanté, who recently delivered a remarkable long-range goal for Al-Ittihad during a league fixture. Kanté, the esteemed French midfielder who made the move to Al-Ittihad in June, played a pivotal role in securing a crucial victory for his team against Al Fateh FC.
In summary, Cristiano Ronaldo and his compatriots at Al-Nassr have not only excelled on the football field but have also warmly embraced the culture of Saudi Arabia. Their video serves as a testament to the unity and celebration of Saudi National Day, and it is truly heartening to witness these global sports stars participating in such cultural festivities.