Elon Musk, the tech magnate, has recently unveiled changes coming to his platform, X, formerly known as Twitter. These modifications could potentially create challenges for news organizations aiming to capture audience attention.
As per Musk's announcement on Monday, X is gearing up to alter the presentation of news article links on its platform. The adjustment entails removing headlines and accompanying text from shared news article links, leaving only the primary image visible.
This strategic maneuver seems to be Musk's way of encouraging users to spend more time on the X platform and nudging them towards subscribing for access to more detailed content. The goal is to enhance the appeal of the subscription service.
The exact ramifications of this change for advertisers on the platform are not immediately evident. Musk had previously asserted in July that X had a monthly user base of 540 million individuals.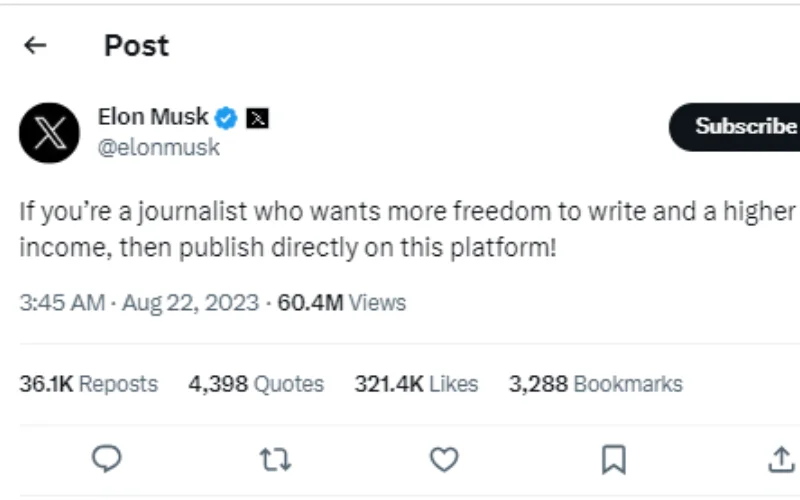 Currently, news links appear as "cards" on users' timelines, featuring an image, source link, and a brief headline. This format has been effective in driving clicks and assisting publishers in expanding their readership.
However, with the introduction of shortened links, users might find themselves composing longer text within their posts. Over time, this could potentially drive more interest in X's premium service, which allows posts of up to 25,000 characters.
Musk's alterations aim to position X as a more relevant platform for content creators. Premium subscribers will gain the ability to share longer videos, enjoy increased visibility for their posts, and receive a portion of the advertising revenue.
While Elon Musk's X presents these changes as a potential boon for content creators and users, it also raises concerns about the impact on news outlets and their ability to attract and engage audiences. The ongoing interplay between social media platforms and publishers continues to reshape the digital landscape.