The enthralling contest to determine the champion of Asian cricket has officially commenced today, marking the start of the highly anticipated tournament for the continent. The inaugural match of Asia Cup 2023, featuring Pakistan and Nepal, was preceded by a captivating performance by acclaimed artists Aima Baig and Trishala Gurung. This captivating spectacle unfolded at the Multan Cricket Stadium, where a surge of spectators is expected to grace the event.
The privilege of hosting the opening match of Asia Cup 2023 was granted to the City of Saints. Enthusiastic fans are anticipated to fill the stadium to capacity, generating an electrifying ambiance for the start of the tournament.
The Pakistan Cricket Board (PCB) enthusiastically announced, "Experience live pyrotechnics and enchanting performances by Aima Baig and Nepal's very own Trishala Gurung, followed by the gripping opening clash between Pakistan and Nepal." This announcement reverberated across various platforms, including the former Twitter alternative, X.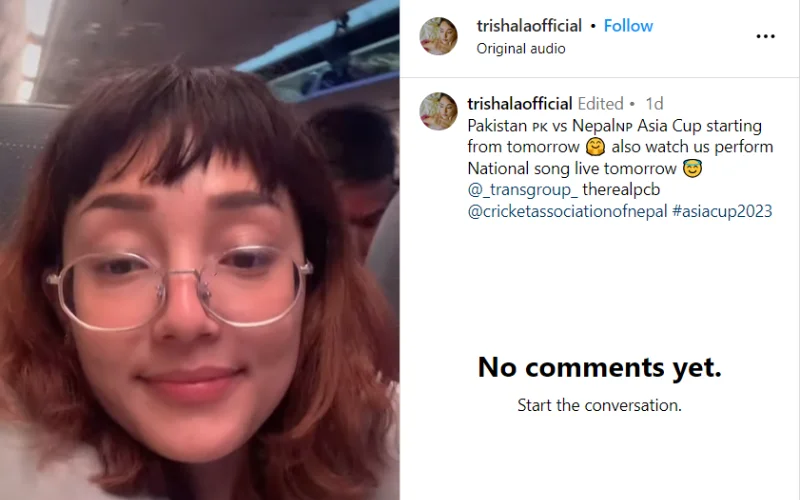 Aima Baig, renowned for her previous renditions of Pakistan Super League (PSL) anthems, shared the stage with Trishala Gurung, who was introduced to Pakistani audiences through this grand event. Scheduled from August 30 to September 17, the Asia Cup 2023 is co-hosted by Pakistan and Sri Lanka.
Significantly, although most of the matches are scheduled to be held in Pakistan, the Board of Control for Cricket in India (BCCI) declined to send their team to Pakistan due to security apprehensions. Pakistan is placed in Group A, alongside Nepal and India, while Group B comprises Bangladesh, Afghanistan, and Sri Lanka.
While Pakistan is hosting four matches, Sri Lanka is set to host nine, culminating in the final showdown. Departing from the usual rotation between T20 and ODI formats since 2016, the 2023 edition of the Asia Cup adopts the 50-over format. This strategic adjustment aims to assist participating teams in gearing up for the upcoming World Cup scheduled to take place in India later this year.
The absence of India, the reigning champions of the 50-over Asia Cup, adds an extra layer of excitement to the proceedings. The previous edition of the tournament occurred in 2018. With the stage now meticulously set, cricket enthusiasts worldwide are on the edge of their seats, ready for an exhilarating showcase of skill, camaraderie, and sportsmanship in this edition of the Asia Cup.