In a historic moment for Pakistan, Arshad Nadeem clinched a silver medal in the Javelin Throw competition at the World Athletics Championship in Budapest, Hungary. This remarkable achievement marks the first-ever medal for Pakistan in this prestigious event.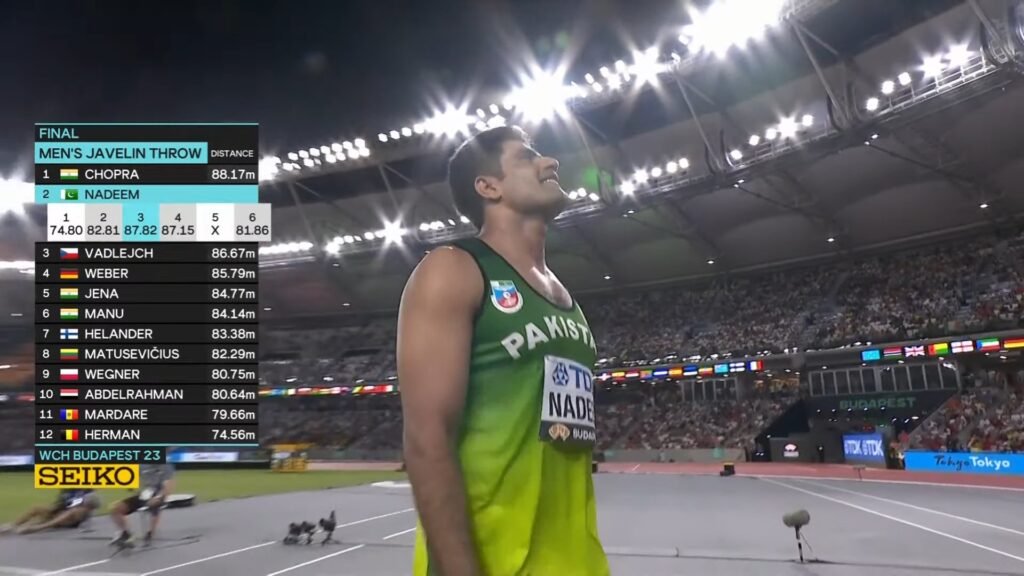 Nadeem's journey to silver wasn't without its challenges. His initial throw fell short at 74.80 meters, but he staged an incredible comeback with a throw of 82.81 meters on his second attempt. The real game-changer, though, was his third throw, where he reached a staggering 87.82 meters, his personal best for the season.
Although Nadeem couldn't breach the 80-meter mark in his fifth attempt, he managed an impressive 81.86 meters in his final throw. His fourth attempt reached 87.12 meters, not quite as high as he'd hoped for.
Nadeem's silver medal was sealed when Germany's Julian Weber failed to surpass his mark of 86.79 meters, and a foul by Jakub Vadlejch in his final attempt ensured Nadeem's spot in the top two.
Nadeem had previously qualified for the World Athletics Championship final with a throw of 86.79 meters, surpassing the Olympic benchmark of 85.50 meters.
This victory is especially significant for Nadeem, who rose to fame after finishing fifth in the Tokyo Olympics. This achievement had a profound impact on his life and character. He continued his impressive performances, securing a fifth-place finish in the previous year's World Championship in the United States.
Notably, Nadeem set a new record with a throw of 90.18 meters at the Commonwealth Games in Birmingham. However, his journey wasn't without hurdles; he underwent elbow and left knee surgery in London, followed by a period of rigorous rehabilitation. He made a triumphant return to competitive sports in May at the 34th National Games in Quetta.
Unfortunately, Nadeem faced adversity again when he injured his right knee during the event, forcing him to skip the Asian Championship held in Bangkok. Despite these challenges, Nadeem's dedication and resilience have led to this historic silver medal win, making him a true inspiration in the world of athletics.